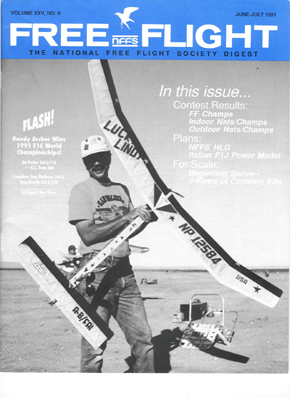 Welcome to The AeroSmith - a Web site devoted to Free Flight Aeromodeling, and the shop of Bob Beecroft in Fallbrook California.

TheAeroSmith builds freeflight field support equipment, F1B support gear, custom engine work, occasional short-run work for the cottage industry, and services related to freeflight competition model airplanes.

TheAeroSmith is a member of the famed Orbiteers freeflight club in San Diego, California, of the National Free Flight Society, and of course, the Academy of Model Aeronautics.
This is a first attempt at a Web site, and suggestions & corrections are openly invited. Reach me at Bob@TheAeroSmith.com

Bob Beecroft

Photo: Fred Terzian, 1990
See here, too:
http://public.fotki.com/TheAeroSmith/
Come visit San Diego's very own free flight club.
The Lucky Lindy in the photo at left is Larry Conover's famed 1960 World Championship Co-Winner. If we're known for anything, it is probably for this model over the past few years.