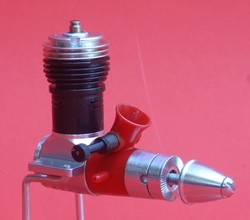 Cox Medallion .051 NFFS Special
This page is dedicated to the history of the Cox Medallion .051 engine. Manufactured in 1996 at my request on behalf of the National Free Flight Society, there were 258 engines made in total, maybe the shortest production run of any Cox engine ever. The order was for 300 motors, however when it came time to make them, Extes found they only had parts for 258 of the small (049) Medallion. They manufactured 258 very unique .051 cylinders, matching the .049 specifications except for the larger bore, and assembled them into these very few, rare, and special Class A Medallion .051's.
Your stories about the motor are welcome, and I'll incorporate them best I can. Suggestions, corrections, and constructive criticism most welcome.
Thermals.
Bob
Above is Medallion .051 number 5258. The LAST serial number in the very short run of these quite special engines.
This is quoted from a note packaged with each of the Medallion .051's shipped:
"At Last!!
The long-awaited special run of Cox Medallion 051 engines are here.This engine is special and distinct from other engines in the Cox line and is NOT simply the Killer Bee 051 piston and cylinder on a Medallion case. They are different in the same manner that the (NOS legal, slit exhaust) .049 Medallions are different from the Killer Bee's:

- the Killer Bee has a lighter weight, tapered piston
- the Killer Bee has a tapered cylinder similar to the Tee Dee
- the Killer Bee has sub piston induction similar to the Tee Dee
- The Medallion 051 has the familiar ID groove in the piston skirt
(And, it should be added (2008) that the Medallion .051 is a SINGLE PORT .051 cylinder, making it so unique)

The engines came without serialization, however each has been numbered so that a record exists indicating who ordered each engine. Engines were numbered in the order pulled from the pallet and shipping in order of the postmarked date of the order wherever possible. The delays were numerous, and with Cox being taken over by Estes, it looked as if the original agreement would not be met... we can be thankful these were produced at all - we received 258 of 300 engines ordered and at a higher price than initially agreed. There were not enough parts available to produce 300 .049s (cases, etc.-RKB)... so what they had (258) were produced as these special order .051s. There will probably never be more new Medallions"
From Martin Hepperle's Web site: (http://www.mh-aerotools.de/airfoils/cox_frameset.htm)
Manufactured in 1996
In 1996 Bob Beecroft approached Cox to produce 300 Medallions for the NFFS (National Free Flight Society). The idea was to allow for easy swapping from ½-A to A for "Nostalgia Free Flight" events.
Just at the same time Estes took over the reigns at Cox and they were not much interested in such a small and not very profitable production run. Finally, 258 engines were produced and shipped in December 1996.
This small number makes the Medallion .051 a quite rare engine - the much touted Venom was made in about 1000 samples. In contrast to the standard production engines these engines bear engraved serial numbers ranging from 1 to 258 - a leading 5 was added to indicate the unusual displacement. All engines were sold through the NFFS to individual free flight enthusiasts.
The cylinder is not a Tee Dee .051 cylinder but has only one transfer port. Therefore it is not possible to fake such an engine by composing it from Medallion and Tee Dee parts. Also, complete record of the engines and their numbers exists.
Thanks to Robert Beecroft for supplying the background story about this engine.
Below:
Simply vibratory engraved onto each case, a serial number. Complete records were kept of the numbers each buyer got. An effort is being made to track the motors as they are being sold/traded around the world. If you know of someone who has one of these who's not the original buyer from 1996, I'd like to know their name and the number of the motor(s) they have.